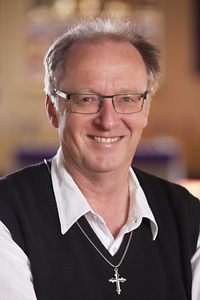 Dean of the Cathedral & Administrator of the Pastoral Region
Ron Peters was born in Sydney to Dutch parents in 1958. However, he commenced his schooling in The Netherlands. His parents migrated a second time to Australia and Ron then continued his primary schooling with the Sisters of Mercy at Blacktown and, then, his secondary schooling with the Patrician Brothers at Blacktown and Fairfield. Ron made his profession as a Patrician Brother in 1979 and he taught at Patrician Schools in Fairfield, Ryde, Liverpool and Granville. He also held the position of Formation Director for the Congregation and later worked as the Religious Education Adviser for Secondary Schools in the Archdiocese of Sydney. His last teaching post was as Religious Education Coordinator at John Therry Catholic High School, Rosemeadow.
In 2002 Ron was accepted as a student for the Diocese of Wollongong. He studied briefly at the Beda College in Rome and at the Good Shepherd Seminary in Sydney. He was ordained by Bishop Peter Ingham on 4th June 2005. He served briefly in the parishes of Ruse and Nowra as well as being the Chaplain for the Berrima Womens Correctional Facility before coming to the Cathedral in 2006 as the Dean and Administrator. He continues his role as Dean and is now the Administrator of the Lumen Christi Parishes, Wollongong.
Ron is the chaplain to the Dutch Community in the Illawarra. He is the Chair of the Diocesan Schools Council and sits on a number of the diocesan school committees. He is the co-founder of the recently formed Illawarra People for Peace, which is a local initiative to build upon peace and harmony in the Illawarra. He continues to be a strong advocate for the removal of the death penalty throughout the world.
In March 2015 Ron became the first member of the Priestly Fraternity of the Order of Preachers (Dominicans), Australia Province.
Contact: Fr Ron Peters
36 Harbour Street, Wollongong NSW 2500
Tel: 02 4211 0500
E-Mail: This email address is being protected from spambots. You need JavaScript enabled to view it.