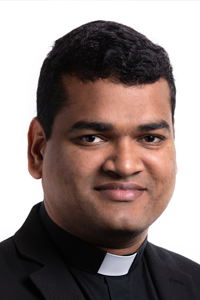 Assistant Priest
Victor Vincent was born and raised in Kerala, India—the youngest of three children to Vincent and Rita. He has an older sister, Vincy Denny, and an older brother, Vipin Vincent, who are both married with children and live with their families in Kuwait. Victor's mother lives in India. His father passed away in 2010.
After completing secondary studies at the local Catholic school at Pavaratty, Thrissur, Victor joined the seminary in his local diocese to discern a vocation to the priesthood. During his time in the seminary, he completed a bachelors degree in arts at the Mahatma Gandhi University, Kottayam, and a bachelors degree in philosophy at the Pontifical Institute, Alwaye.
Victor arrived in Australia in 2012 and lived in Canberra for a year before joining the Catholic Diocese of Wollongong as a seminarian. Bishop Peter Ingham sent Victor to Melbourne for formation at Corpus Christi College, the regional seminary for Victoria and Tasmania. In 2017, he completed a Bachelor of Theology at the University of Divinity, Melbourne.
Victor's initial formation for the Diocese was at St Paul's Parish, Camden, before he undertook a six-month pastoral placement at St John the Evangelist Catholic Parish, Dapto—under the supervision of Fr Francis Tran. Victor then assisted Fr Christopher Sarkis as a deacon at Our Lady Help of Christians Parish, Rosemeadow. Victor was ordinated priest on 21st November 2017 by Bishop Peter Ingham and appointed to St John's Parish Campbelltown.
On Monday 1st October Bishop Brian Mascord appointed Victor as Assistant Priest at Lumen Christi.
Victor lives by the mantra of finding God in small things and has a desire to provide practical homilies to help the people of God in their daily life.

Contact: Fr Victor Vincent
36 Harbour Street, Wollongong NSW 2500
Tel: 02 4211 0500
E-Mail: This email address is being protected from spambots. You need JavaScript enabled to view it.