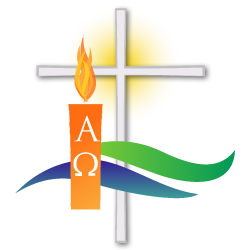 The title of our Pastoral Region is Catholic Parishes, Wollongong. Our spirituality centres on the "Light of Christ" which we celebrate at every Easter and Christmas, at every Baptism and we pray to experience its fullness in every prayer for the deceased.
The Cross of Jesus dominates our logo.
The Paschal Candle—the candle of Baptism—is inscribed with the Alpha and Omega: Christ is the beginning and the end; Christ is for all times and for all people. The Light of Christ—Lumen Christi—is the great antiphon sung at the Easter Vigil to which the assembly gives enthusiastic assent. This light is then entrusted to all the baptised "to be kept burning brightly".
The waves at the base of the logo depict the green escarpment and the blue ocean, which characterise the Illawarra region of New South Wales.
Our three parish communities of St Francis Xavier, Wollongong, St John Vianney Fairy Meadow/Balgownie and St Brigid, Gwynneville are both drawn to and shine out the Light of Christ. Three parishes shining the light of Christ within and beyond the City of Wollongong! Our saintly patrons - the Mother of Sorrows, St Francis Xavier, St John Vianney and St Brigid - continue to shine forth the light of Christ in our city nestled between the Illawarra Escarpment and the ocean: The Mother of Sorrows who bore the Eternal Light and knew His sufferings, St Francis Xavier who brought the Light to new lands, St John Vianney who enlightened his parishioners in his priestly ministry, and St Brigid who shone with the wisdom of Christ.