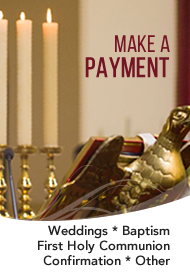 During the Easter Vigil ceremony, the priest enters a darkened church with the newly lit Paschal
Candle. He acclaims three times, "Christ our Light" and the Congregation welcomes the Light singing, "Thanks be to Go

In our churches in the Pastoral Region, the priest sings this antiphon in Latin, "Lumen Christi". This is the title given to our Pastoral Region comprising the three parishes of Wollongong, FairyMeadow/Balgownie and Gwynneville.

Christmas and New Year Parish Office Hours
Fri 21 Dec 8.30am to 12pm
Mon 24 Dec to Tue 1 Jan'19 —Office Closed
As of Wednesday 2 January the parish office hours will change the new office hours will be: Tuesday to Friday 9am to 3pm and closed for lunch 12pm to 12.30pm.
Psalms and readings from the Liturgy of the Hours, and Mass readings.
Upcoming Events
Today's Color: Green
Today's Rank: Weekday